VERSA-LOK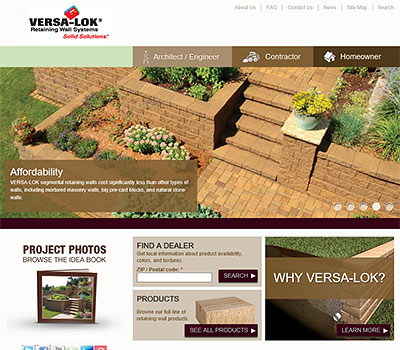 Click here to visit VERSA-LOK website »

VERSA-LOK® Retaining Wall Systems has been creating Solid Solutions™ for architects, engineers, contractors and homeowners since 1987.

Headquartered in Oakdale, MN, VERSA-LOK Retaining Wall Systems comprises a talented group of engineers, marketers, salespeople and administrative personnel. Our staff is 100 percent committed to providing the highest level of service to our customers.

VERSA-LOK technology is licensed to manufacturers all over the world who use it to produce an ever-growing list of innovative VERSA-LOK Retaining Wall Systems. Each manufacturer works closely with their own network of retail and commercial dealers (along with marketing, technical and sales support from VERSA-LOK headquarters) to promote and sell VERSA-LOK Retaining Wall Systems.